Page Content
Image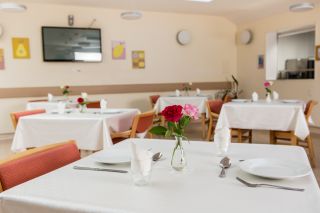 Text
Our chefs prepare a daily menu to cater to everyone's nutritional preferences and need. A meat, fish and vegetarian option is offered every day, and there is enough spuds to go around. Tea, coffee and drinks are available round the clock.
Cognitive impairment and dementia can lead to changes in appetite and sense of taste and smell, which can reduce the person's desire to eat. Some people with dementia have difficulties with sight and perception, and so can struggle with using cutlery. Some people won't recognise cutlery or remember its purpose and will prefer to pick up food from a plate with their fingers.
In some cases a person with dementia may lose their sense of time, and so forget to eat. Equally, they may have difficulty associating feelings of hunger with the need for food. For others, these are trivial things, but for a person with dementia, they may be challenging.
Dementia can also result in difficulties in chewing and swallowing. Because of these difficulties, the person may need longer to eat each meal, and so they may eat less and lose weight. Our staff are all trained in dealing with this matter and have excellent external support from dietitians and speech and language therapists.
Text
Contact us to find out more about the food/nutrition options available to our residents …